A note to my readers: You were expecting to see the next installment of the B-17 project here. Don't worry, that model is alive and well in my shop but I elected to take it "out of the spotlight" for a while to concentrate on getting the beginnings of the scale detailing process right. Enjoy this side visit to the other end of the shop and the B-17 will be back here soon.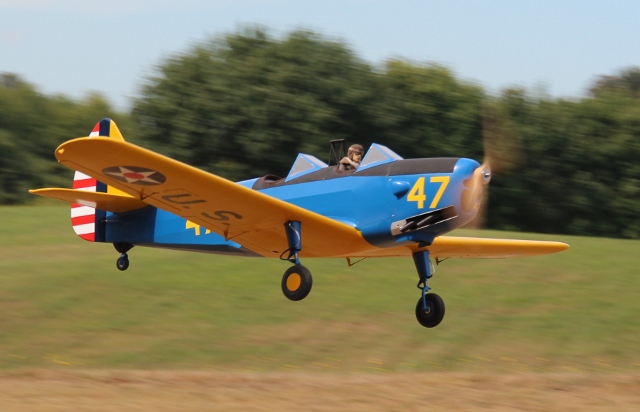 RESTORING A CLASSIC (MODEL) AIRPLANE
 Why would you want to repair, rebuild, or perhaps even restore a model airplane? Maybe it's a plane you crashed or a model somebody else gave up on that just looks too good to stuff in the trash barrel.  This is exactly what I learned to do many years ago when the kid I used to be nearly always could not afford to buy a new kit to replace the plane I'd just used to dig a hole in the third base line of our small town ball park. Along with my friends, I learned to scrounge leftover balsa and covering and hardware, to piece smashed structures together and improvise ways to make them stay that way. In the process we learned to try out new ideas we might otherwise never have imagined.  That we learned to appreciate the stuff we had all the more sort of came with the package. Whether we realized that or not, we were plenty happy to keep a battered old Ringmaster  or primitive single-channel RC  job in the air a little longer.
These days, although I no longer have to worry so much about the price of a new kit, I still feel the same way about fixing broken model airplanes…and…the more I talk about it, the more I discover that I'm not the only one who feels that way.  Repairing crash damage, or even more to the point, restoring a tired old airplane, isn't for everybody.  But, if you agree with me that what I'm describing  sums up what you might call the antithesis of a "buy-quick, fly-quick" disposable ARF airplane attitude, and that that's a good thing, read on. If you can't help getting excited by the idea that a tired old plane, rescued from somebody's junk pile, has the potential to be better the second time around, we have a lot in common with the guys who restore full scale antique and classic planes (although they have to commit WAY more time and money), and I've got a great story to share with you.
Several years ago, on one of those sort-of-summer, not-quite-fall afternoons when the whole world looks, smells and feels  as if it'd be somehow wrong not to be trying to find time to fly a model airplane, I was out at the Puget Sound Silent Fliers field in Olympia, Washington with my old friend Randy Smithhisler. Randy and I are both hard-case electric powered RC scale builders and fliers, and on this day we were running true to form.  Randy had brought out one of his old, Astro 90-powered quarter-scale "long-wing Pipers" (if you don't know what that means, it's your homework assignment to find out) and I was flying the 1/6 scale WACO SRE that I described in a couple of Fly RC Magazine articles in 2010. Randy had brought along Don Rottle, an elderly friend who has done his share of both full-scale and model-size aviation over the years. While Don is no longer an active modeler, he was as happy as we were to be there.  As Randy and I took turns trying to see who could make the most gentle wheels-kiss-the-grass landing, Don tested my memory. "Bob, do you recall when I bought that painting of a PT-13 biplane  from you, years ago?"
I did. Back in the 1970's, even before I began work on the series of aviation-themed paintings that ended up on the covers of both Model Builder and Model Aviation magazines, Don had bought the little watercolor study "off the wall" at one of the local airport coffee shops where I displayed my artwork … whether just because he liked it or also to encourage me to keep pushing the envelope of my abilities he would never say.  "You got me, Don. That was way back, when I was still flying rental Cessna 150's and wondering how to get my hands on a legitimate classic airplane I could afford to buy. "Well, you managed that," he nodded, and then added, "It's good to keep our memories of the good old times fresh…" He let that thought trail off and we went back to taking turns flying our airplanes.
Later we were relaxing over coffee and burgers at the local hangout when Don spoke up suddenly. "Y'know what I was saying about the good times…well, I've got eight or ten old planes lying around I'm never gonna' fly again. Maybe you guys could help me find good homes for them. I don't, you know, want a lot of money for them…just to get 'em in the hands of somebody who'll use them."
"Whatta' ya' got?" I couldn't help asking. "What are they?" It turned out that Don had several well used ARF aerobatic planes and a few older kit-built pattern jobs. And, oh yeah, there's that big PT-19.
A PT-19?  Oh, wow…(I've always had a thing for PT-19's)… "How big?" I had to ask.
"Oh, not quarter scale, I don't  think, but big," Don recalled. "Eighty-some inches span, I think."
That's where my restoring old scale models light went on. "Who built it? What condition is it in? Has it flown?"
"D'you  remember Chick Young?" Don asked me.  I did. Chick, a real model builder from the Seattle area, had passed away several years ago.
"Well, this was one of his. I think it's plans-built…for a glow engine, of course.  I don't think he quite got it finished, ready to fly you know, before he got sick and all that. You'd have to look at it. Who would want that?"
"Me, maybe…if it's worth restoring. What do you want for it?" I responded.
"Oh, I don't know. Not a lot…but I'm not even sure exactly where it is. I think I left it with some guy from the club, just for storage. You'd have to see it, to check if you even want it."
As it turned out, one thing did not lead to another right away, and a year went by before I had another chance to talk to Don again about the mysterious  lost PT-19. In the end, though, it all worked out. Don decided that he would give it to me just to finally get a chance to see the airplane fly, and one cold, rainy November evening I picked  up what was left of it over at Randy's place.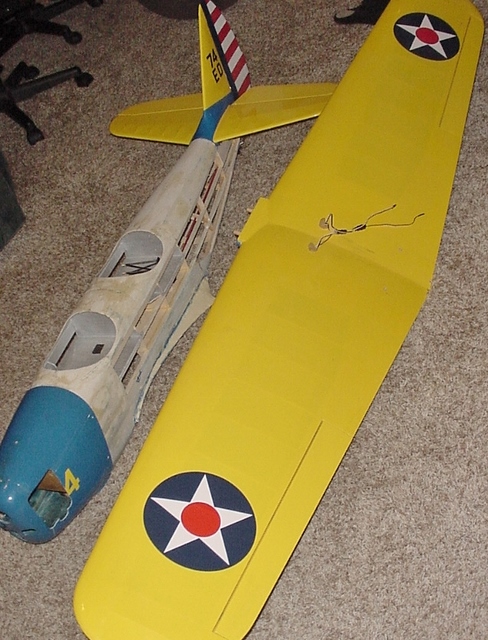 PT-19-1      At first glance Chick Young's PT-19 didn't look all that bad…maybe just a little recovering work on the fuselage and a conversion mount for an electric motor and I'd have her flying. But… "some guy from the club" Don had left the model with had assumed the plane was his to keep, and puttered around with improvements for most of that lost year before Randy was able to get it back from him.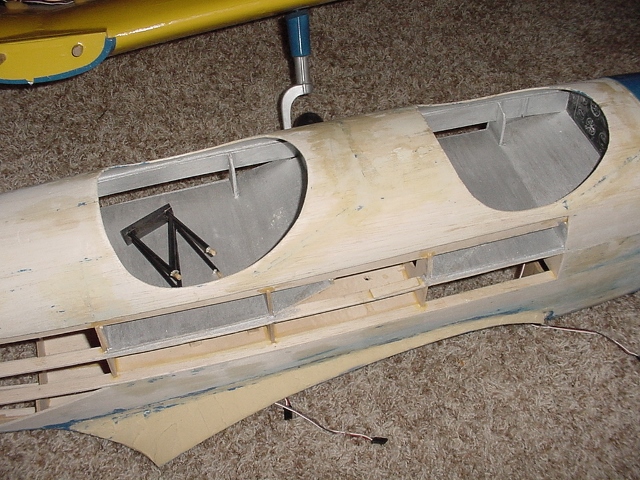 PT-19-2      Every time I took a closer look I found things I knew I'd never be comfortable keeping. The wing root fairings didn't look too bad, but once I stripped off what was left of some crinkly plastic covering and saw the soft, crumbling balsa filler underneath I knew they would have to go.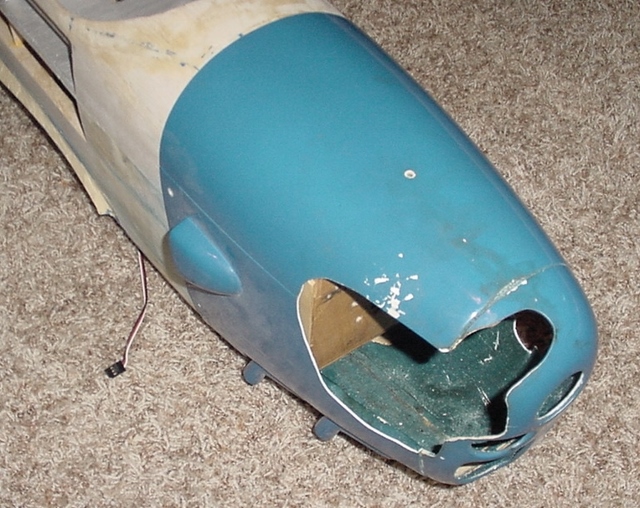 PT-19-3       I never did discover for sure whether this model began life as plans or as a kit. In any event, a well- made fiberglass cowl came with it. However…it had been cut out roughly for what I was told had been a 1.08 cu. in. two-stroke engine and l knew that would have to become history.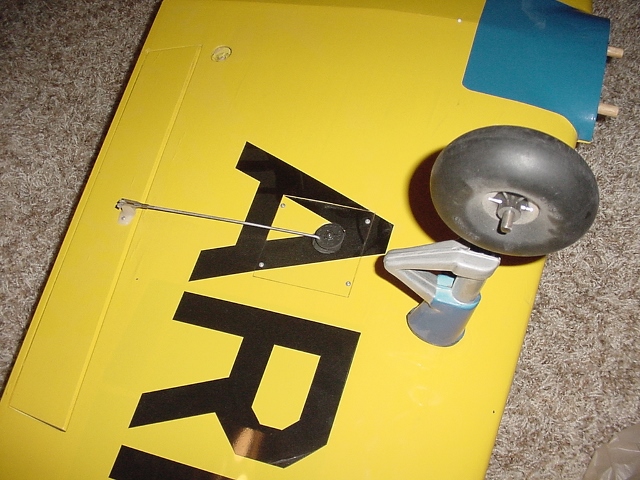 PT-19-4       The wing didn't look so bad, either, until I saw the clunky, toy-like blow molded landing gear strut fairings, the exposed servo outputs and, of course (you guys who know me can see this coming) the iron-on plastic covering on the entire wing.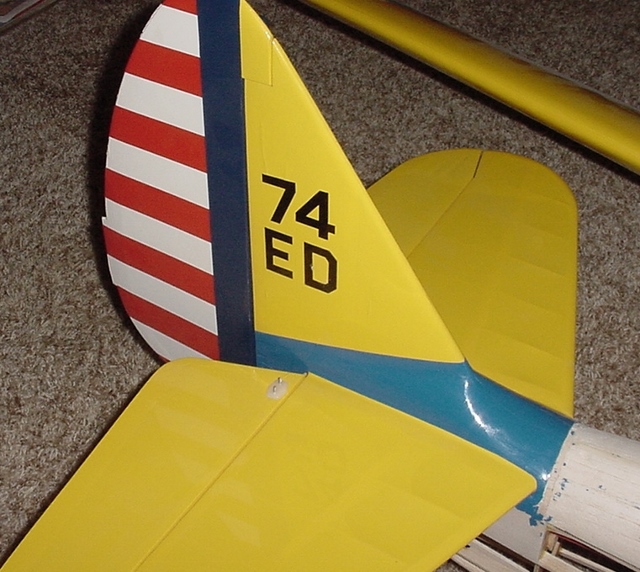 PT-19-5      Same game with the tail assembly. The shape of the vertical fin fairing is all WRONG and the horizontal tail is plastic covered open (ribbed) structure. It's supposed to represent the plywood skinned surface on the full scale PT-19.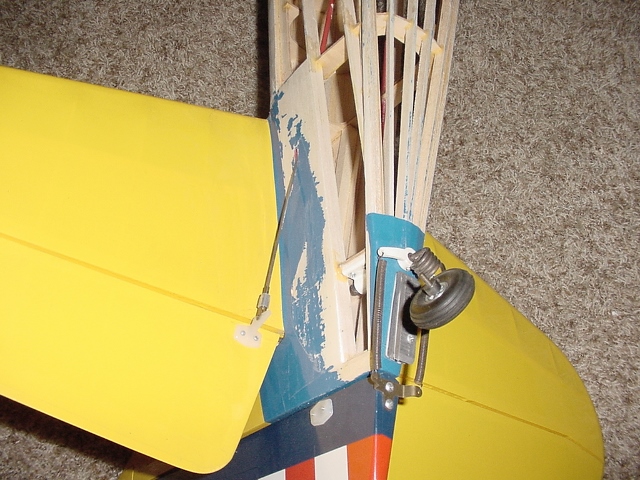 PT-19-6      There were more troubles underneath. We're looking at exposed plastic control horns and…worse… an external tail wheel drive horn and exposed linkage springs. The tailwheel drive on a PT-19 is supposed to be INTERNAL. Enough of this. Every place I looked were more structural flaws and "improvements" that just wouldn't work on what I wanted to be a reasonably credible scale model of a Fairchild PT-19-A. I had a lot of work to do to pick up where Chick left off and make it into the model I believe he intended it to be.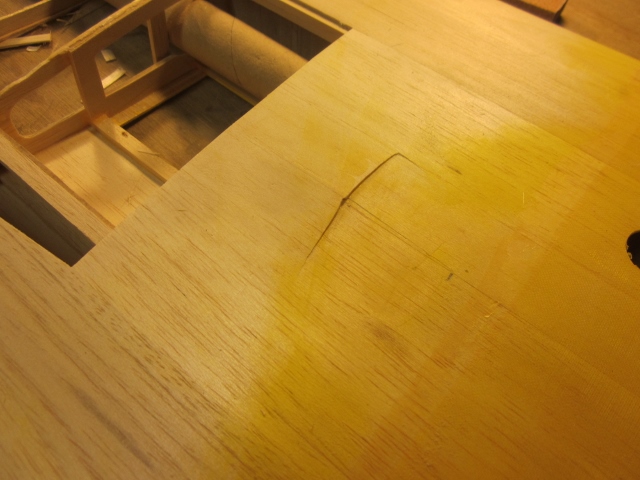 PT-19-7      You don't need a photo to understand how I stripped plastic covering off the wing. I used a heat gun to loosen the stubborn places and acetone as a solvent to remove any adhesive/color residue that didn't want to give up and go quietly. It's a good thing I did. Underneath what appeared to be an acceptable covering job I found several places like this where less-than-perfect lightweight 1/16" balsa sheet had failed under ordinary handling loads and cracked across the grain.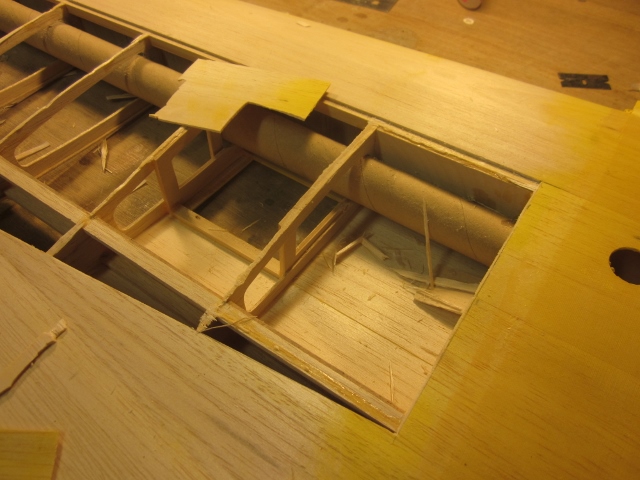 PT-19-8      All that had to go. I cut out each cracked section of 1/16" balsa sheet back to every glue joint with adjacent (sound) structure and began to clean up the resulting "raw edges" to receive new 1/16" sheet. But…I was planning to go beyond that…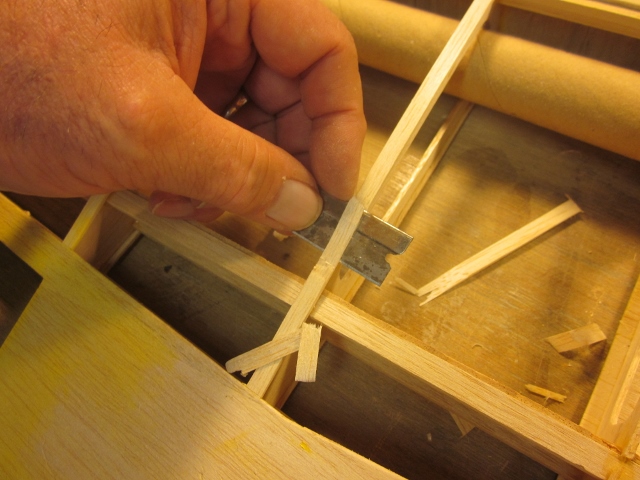 PT-19-9      What I consider to be a big error with this model. The wing of the full scale PT-19 is skinned with aircraft plywood so that there is no "open structure" (fabric covering over ribs) on the wing itself, although the ailerons are fabric covered. For whatever reason this model was designed with leading and trailing sheeting and a wide, capstripped "open" bay in the center of each wing panel. I chose to fill in those openings with more 1/16" balsa sheet to replicate the appearance of the full scale airplane. To permit every edge of the new sheeting to lie flush with the pre-existing structure I had to remove every trace of the old 1/16" x ¼" balsa capstrips. I began by cutting as much as possible of each of them loose with an ordinary razor blade.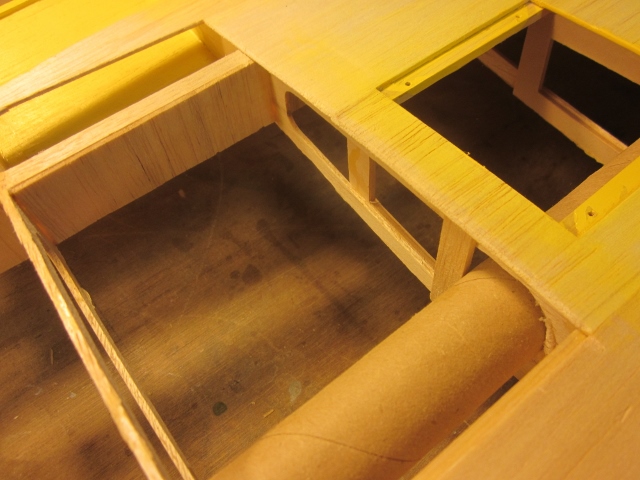 PT-19-10      This is the underside of the left wing root just outboard of the flap servo mount area (which was already sheeted with 1/16" balsa). I have removed the capstrips and squared off all the corners where the old sheet covering will have to blend with the new.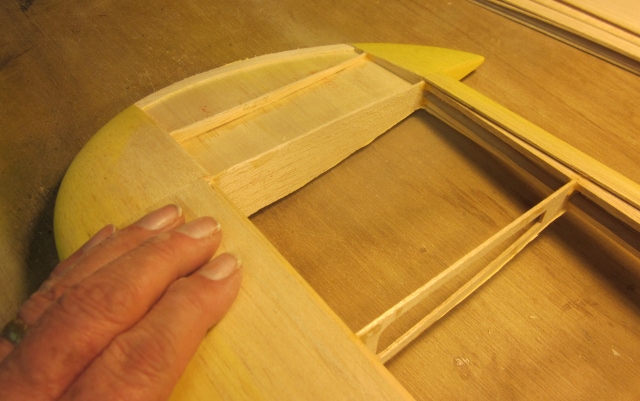 PT-19-11       Same deal on the underside of the left wingtip. If you look carefully you can see how I have cleaned and smoothed every surface (such as the outer faces of the front and rear spars) where the new 1/16" balsa sheet covering will be attached.
PT-19-12      I did the same thing with the wingtip outline structure. The outer face of this tip outline used to be flush with the leading and trailing edges (and with the covering). The new 1/16" balsa sheet covering must fit flush, so I relieved the surface where it will fit by 1/16" so I can inset the new skin.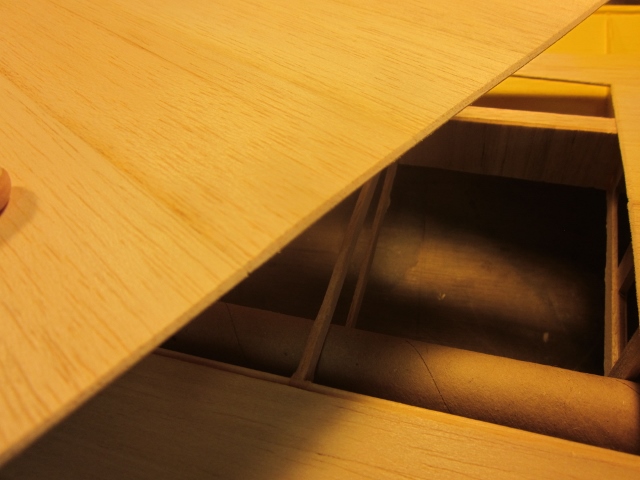 PT-19-13      There are going to be several places where the new sheet will butt-joint against the old and be structurally weak and unreliable unless I do something about it. In this case I decided to sand a 45-degree bevel into each of those joints. This is the new skin; there is a matching bevel on the old skin it will mate with.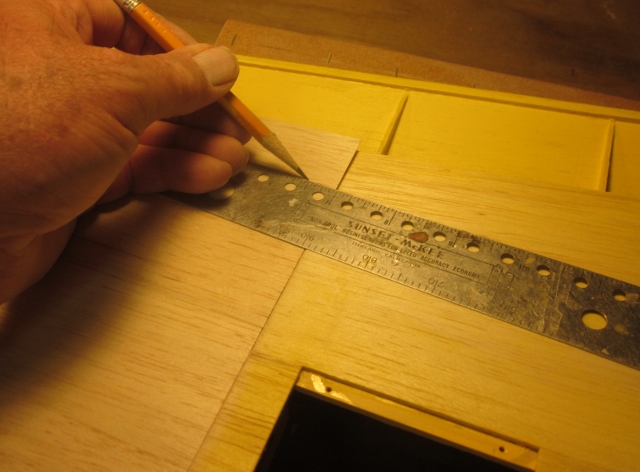 PT-19-14      With each piece of new 1/16" balsa sheet skin beveled and fitted I used a steel rule to ensure that my cut marks for the remaining trims line up exactly with the old structure.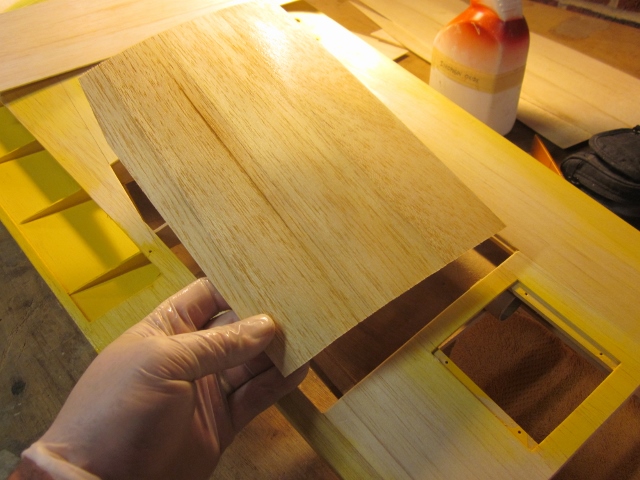 PT-19-15      This is the underside of the right wing between the flap and aileron servo bays (which are already sheeted). I edge-joined some 8" wide sheets of 1/16" balsa to permit cutting panels that would exactly fit each of the open spaces I needed to fill without having unsupported seams to worry about. With everything measured, double-checked and cut, I sprayed what would become the outer face of each inset sheet with water to soften it and induce a gentle bend to match the curvature of the existing wing surface.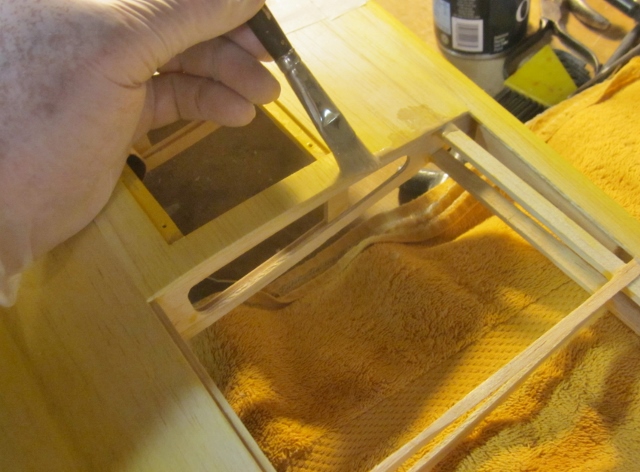 PT-19-16      I use Titebond wood glue for jobs like this. The best way I have found to apply an even, generous bead of it along every edge to be joined is by using a brush.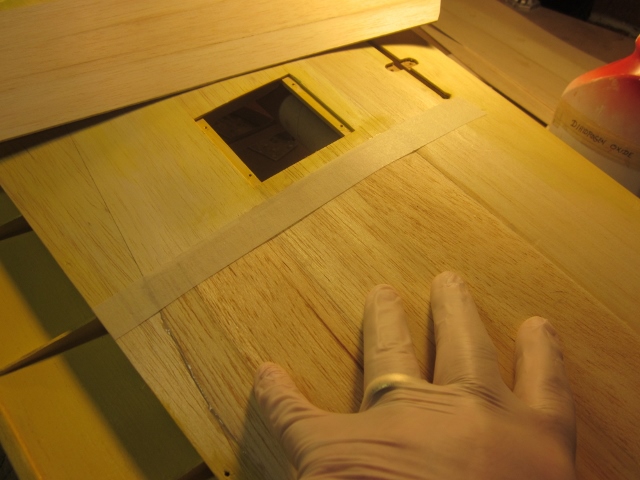 PT-19-17      Pins would make a mess of all those carefully fitted edges, so I used plenty of masking tape to hold the new panel in place. The tape won't stick to the wet balsa, but it will hold well to the surrounding structure that I have left dry.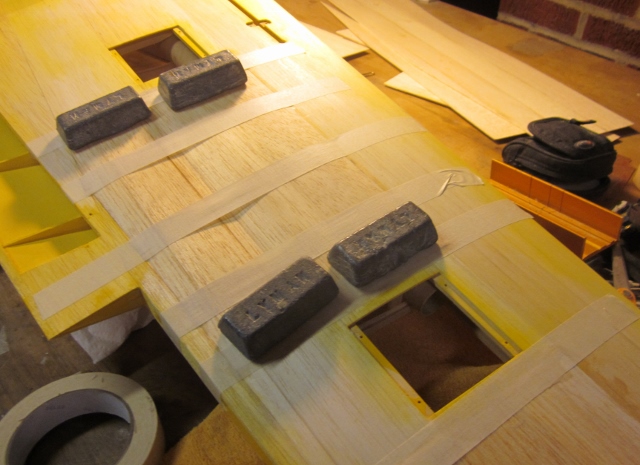 PT-19-18      With all that in place I supported the wing level on the work surface and used building weights wherever necessary to FORCE the new sheet tightly and precisely into contact with the old structure. Titebond is a relatively fast drying wood glue, but I didn't take chances. I leave a joint lay-up like this to dry overnight before I touch it.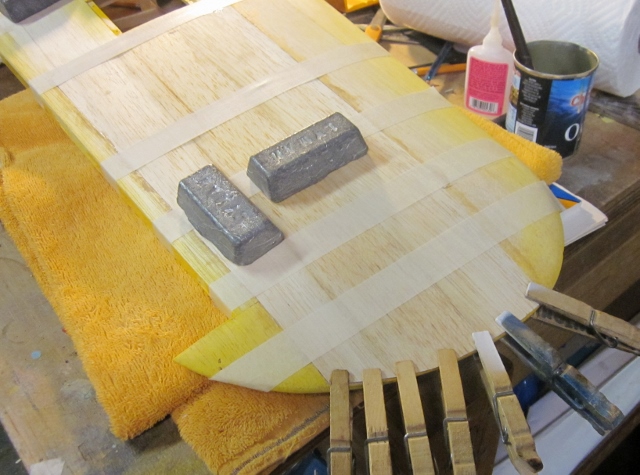 PT-19-19      On the wingtip I can get clothespin clamps to fit around the new joint, so I used them here to get an even tighter job of holding everything in place while the glue dries than masking tape would have provided. I have to assume that those clamps are going to leave some dents in the new sheeting. However, I know from experience that there's a lot of "extra" wood around the radius of the tip that I'm going to have to sand away to replicate the correct scale contour. If that were not the case, I would "pad" each clamp with bits of scrap balsa…maybe 1/8" or so thick…to prevent squeezing indentations into the surface that I would then have to fill.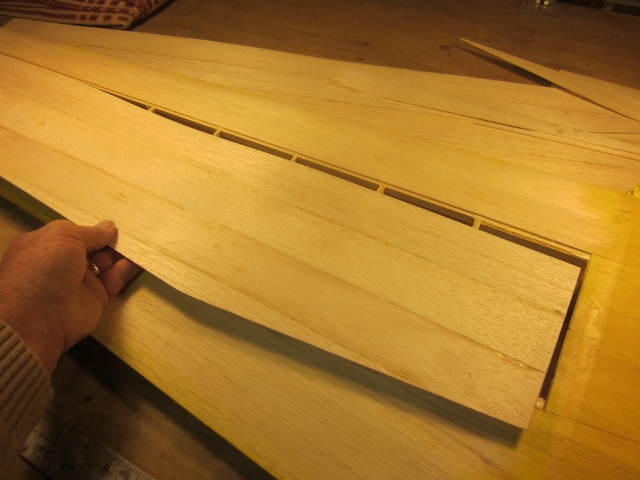 PT-19-20      Here's another new 1/16" balsa sheet panel trimmed and ready to fit in place. I'll wet the outer face of this sheet just as I did the previous one before gluing it into place.
PT-19-21       After the glue has stuck and the water has dried overnight, that same panel looks like this. Note that the rectangular cutout at the right is where a 1/16" plywood servo mount/cover plate will fit flush with this new balsa skin.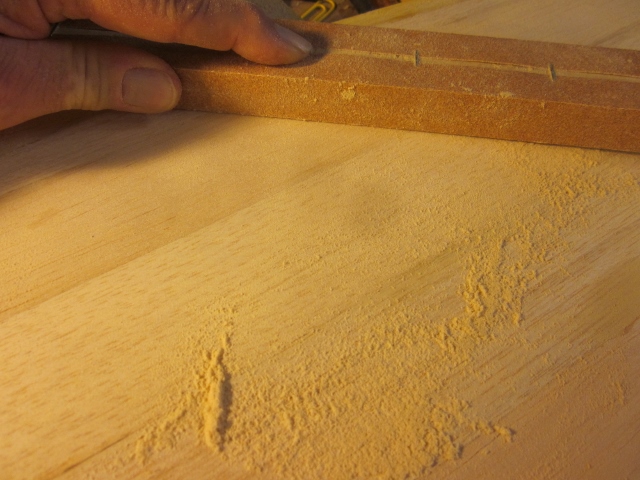 PT-19-22      This is what happens when all the new 1/16" balsa sheet skin is in place and dry. I'm using 100-grit production paper on a block that's long enough to span across several edge joints and make it easier to blend them into a single smooth surface. Don't be afraid to make some balsa dust here…for every builder who cuts too deep, there are probably fifty who don't sand deep enough and thus leave crude edges sticking up from what should be a flat surface.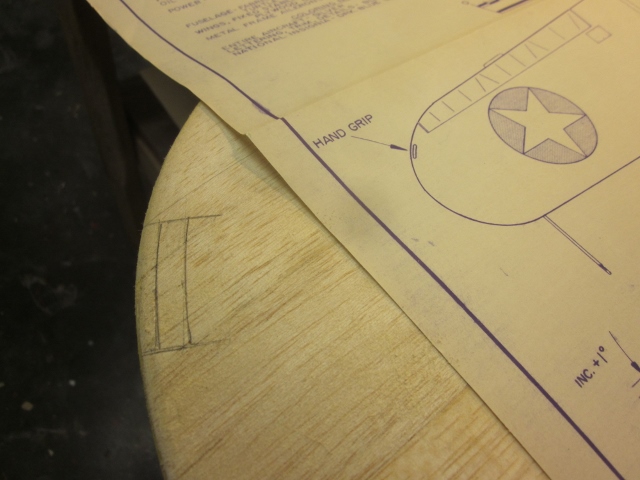 PT-19-23      I have sanded out the entire surface of the newly sheeted wing and cut the correct radius into the new wing tips. Now it's time for a "scale detail" that apparently was never considered when this model was started. PT-19's have characteristic "hold-down" hand grips cut out of each wingtip. You don't need them to fly the model, but they are part of the identity of a good scale model of this airplane. Here you can see the cutout represented on the Paul Matt scale drawing I'm using as a reference and the penciled-in lines where I'm going to cut out some structure to insert a pre-shaped block.
That's all for now. I'll be back soon with more of the story of how I rebuilt this PT-19 wing.