About Bob
Member of the U.S. Model Aviation Hall of Fame
Over the years, Robert A. Benjamin has earned his way through life as a drugstore clerk, a commercial clam digger, a seafood restaurant cook, a boiler  insurance underwriter, a computer data collection manager, a big-city hospital emergency room clerk, a waiter, a certificated public school teacher, a security guard, a life insurance salesman, a truck driver, a commercial printing production planner, a Civil Air Patrol instructor, a gallery artist on contract to a nationally recognized publisher of fine art prints, and a free lance magazine author. Along the way he managed to earn a private pilot's license, to restore a classic airplane, and to learn to build flying scale model airplanes well enough that he was inducted into the U.S. Model Aviation Hall of Fame in 2006.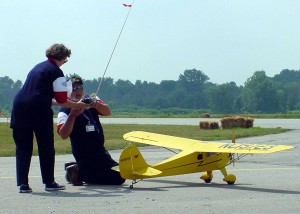 The books of Robert Benjamin's Imperfectly Ordinary trilogy… A Gift of Dreams, I Promised You Daisies, and Side Door To Heaven ( to be released shortly) … recount his experiences as a child of small town America and explain what it feels like to realize that you are the one who will always be different. Since his boyhood days Mr. Benjamin has found himself driven to discover what he ought to do about it, and in time he came to understand that it was his calling in life to become a writer.
One thing that has always made it clear that Bob Benjamin was different is his passionate interest in model airplanes. During the years he has devoted to working on Imperfectly Ordinary, his friends in the world of aeromodelling have managed to convince him that all the good things he has experienced because of that interest also deserve to be shared. The results of that encouragement are waiting between the covers of Hey Mister, Will It Fly?
To read the official biography that was posted along with Bob's election to the Model Aviation Hall of Fame, go to   https://www.modelaircraft.org/files/Benjamin-Robert-A.pdf
To read a Bibliography of where Bob has been published Click Here