Hey, this stuff is starting to get interesting! Getting this B-17 ready for that first flight is pretty much down to "detail work" now. As I mentioned once or twice before, I could pretty well just add some control surface covering, stick some props on those four Cobra motors, and have a model that would be capable of flight. OK, nobody is actually going to do that, but the temptation to speed things up just a little…especially if lots of good flying weather is right around the corner…can sneak in there and make some shortcuts seem like a good idea. We know better, don't we? Everything I do on this airplane from now on goes on the outside and nearly all of it consists of details that you can always rely on to do their jobs as "eye magnets". Cut corners now and everyone who sees this model in the future will notice…you, most of all. With that said, we need to remember that on this particular B-17 model, nearly all of this stuff also has to be a compromise.  Everything I add to Pat Tritle's original design or modify significantly has got to reflect a balance between adding enough material/structure/paint, etc. to bring the model up to the standard we want AND leaving enough more stuff off to avoid adding enough weight to risk compromising flight performance. Simply stated, with all the skills, techniques, and materials counted equally, bigger scale model airplanes permit us to add more detail . This one is medium sized and if you have been paying attention to your scale references you'll know that there's a lot I'm leaving off. A really BIG B-17…say in the ten-to twelve-foot-span-plus range…would be capable of carrying  enough not-really-necessary weight to make it realistic to consider adding some really intricate features like operating cowl flaps, fully detailed guns, turrets and interior and so on. On the other hand, a really small B-17 (like that Guillow's kit I know you have all thought about) must be kept obsessively light at the expense of lots of surface detail to have any chance of being a practical flying model.
OK, with all that said let's get on with adding some interesting-but-light windows and other goodies to this model. In full scale real life it's pretty busy in there, but in aeromodelling real life it's a temptation  to fill it all up with heavy interior detail. Remember what I just said about detail, weight and smaller models? I'm going to fake it on this one. I have added an auxiliary "ring" to the front of the old F-1 former and installed a simple 1/32"plywood plate to represent the nose compartment floor.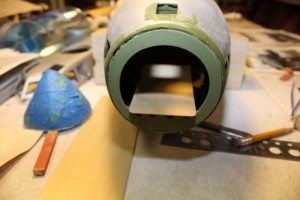 B-17-21-1      The "pointy end" of a B-17 F consisted of a clear enclosure ("nose bowl") of a material called plexiglass or perspex. There was no nose/chin gun turret and whatever 50-cal. machine guns made it into the nose got stuck out of the sides a bit further back. This "plain" enclosure is easy to model…the original kit includes a clear plastic molding which, like the engine cowls and gun turrets, is acceptably close to scale for us to use. The downside of this simple bubble is that it offers no help at all with camouflaging whatever lack of detail I choose to accept inside the bombardier's/navigator's compartment.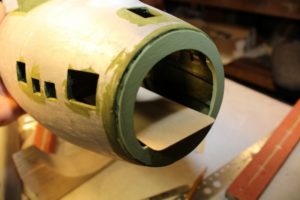 B-17-21-2      Here you can see how I dimensioned that nose ring to be recessed just enough around the outside edge to provide a ledge, or shelf, for the molded nose bowl to fit over. At this point I have also made all the rectangular window cutouts on the nose and given the whole interior a single coat of more-or-less chromate green craft acrylic paint. You can't see it here, but I have also given the inside surface of the plastic a very light coat of matte clear Stits PolyTone to mist/fog it slightly. Can you see how all of this is going to come together to give me a light-and-shadow trick that will provide the illusion that there's plenty of detail in there?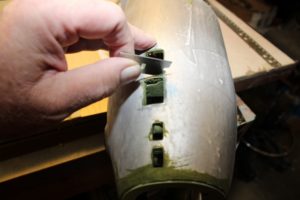 B-17-21-3      Now let's do something with all those fuselage windows. There are a lot of them…nose, radio compartment, waist and tail gunners' positions…and I'll do all of them in the same way. Let's start with the nose. I have chosen a piece of medium-thick clear plastic from which to cut all the actual "window glass"; here I am marking a relief cut into the exterior balsa/fiberglass/EzeKote skin to match the thickness of that plastic and provide a ledge about 3/32" wide all around. I'm using a razor blade for the "easy" outside edge cuts.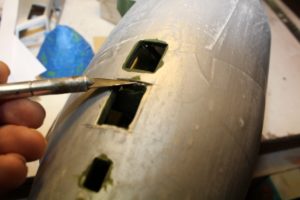 B-17-21-4      I used a No.11 blade to slice away enough balsa along those edges to provide a uniform recess that will match the window plastic.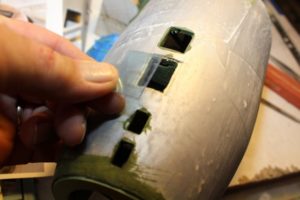 B-17-21-5      This rectangular window panel is going to fit into that large window opening. NOTE: The plastic looks blue because I have not yet peeled away the protective film that comes attached to it.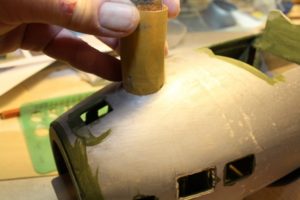 B -17-21-6      While I'm working on more window cutouts I'll use one of those custom sanders to clean up the round opening where the navigator's sighting dome will go.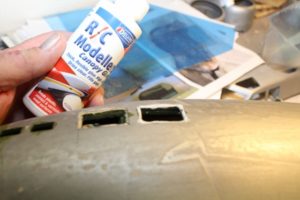 B-17-21-7      Deluxe Materials R/C Modelers Canopy Glue is the best choice for installing all the clear plastic window inserts.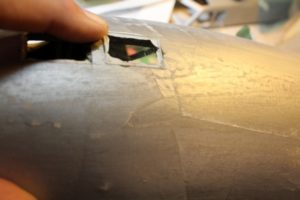 B-17-21-8      They all go in place like this. That slight "squeezeout" on the inside ensures that I have the plastic firmly seated into the bead of adhesive. Canopy Glue dries clear, so this won't show when I'm done.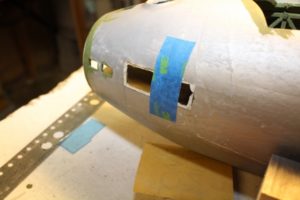 B-17-21-9      A simple strip of masking tape put on TIGHT will hold the window in place until everything is dry (overnight again).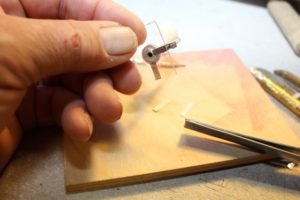 B-17-21-10      Now it DOES start to get complicated. The two nose-mounted 50-cal. Guns fit into ball and socket fittings built into two of the noses compartment windows, which are heavily reinforced to bear the weight and recoil loads. I went to my TAIG Micro lathe and made a pair of those little balls, then cobbed up the circular mount and base from old washers and metal tape. This is probably WAY deeper than most of you might choose to get involved yourself, but I wanted you to see how I did it. Later on I'll show you photos of the finished installation.
B-17-21-11      All that complicated stuff goes into its respective window frame with Canopy glue just like the others.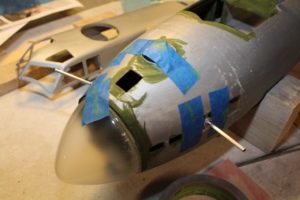 B-17-21-12      Now you can see what I've been up to. Here you can see the "misted" interior of the nose bowl and a dummy gun barrel fitted into that socket fixture to check the fit. All the clear plastic you see here will be safely taped/masked over before any more finishing work happens.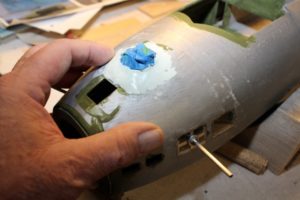 B-17-21-13      One last adjustment…the fairing around the navigator's dome wasn't quite thick enough to permit me to sand a consistently curved profile into it so I added a buildup of Stits Lite Fill that I'll shape to its final contour later. Did you notice the aluminum tube machine gun barrels that I sneaked into place temporarily?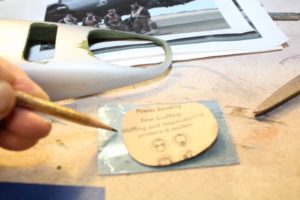 B-17-21-14      Here's another check to see if you've been paying attention. At the rear end of the raised cabin structure are a couple of windows more or less shaped to fit the "roof outline". In real life these provide a view from the radio operator's compartment. What you see in the foreground is another piece of that heavy clear plastic sheet still covered on both sides with the blue protective film that comes with it. The strange-looking pattern (for the larger of the two windows) happens to be cut from an odd scrap of sandpaper that happened to be handy when I was ready to trace the window opening onto it and cut the panel shape free.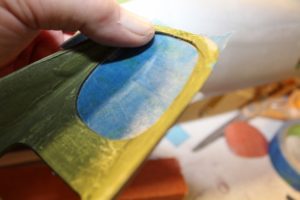 B-17-21-15      See how it fits? The blue protective film is still in place…I'll leave it there until I'm sure I'm done using a 100-grit sanding block along the outer edge to get the fit just right.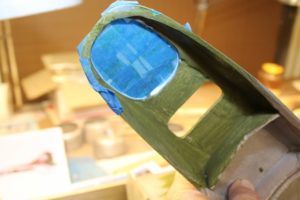 B-17-21-16      Got it! I peeled away the protective plastic, pressed the window panel into place and secured it with all that blue masking tape, and then ran a bead of Deluxe Materials Super-Phatic glue all around the inside edge/joint. Remember that this stuff will "wick" itself into the full length of the joint, crevices and all, and then polymerize as it dries.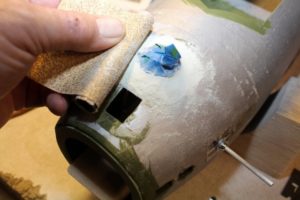 B-17-21-17      While that drying is going on, I can go back to that last-minute extra Stits Lite Fill epoxy I added around the navigator's dome and sand it to exactly the final shape I want. That's a piece of 100-grit production paper on my custom sanding tool.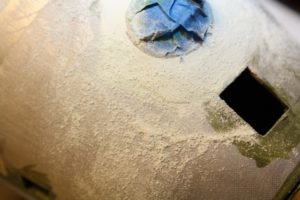 B-17-21-18      The 100-grit cuts pretty well…and creates a lot of sanding dust. On a job like this, keep cutting until you get the shape right. You can clean up afterwards.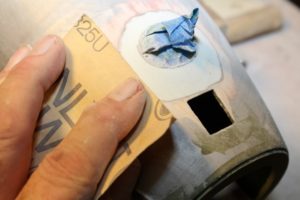 B-17-21-19      With that done I can see just how well I did the shaping. When it's correct I can use a hand held sheet of finer grit paper to finish the contour. Here I'm using 320-grit production paper to do a final smoothing.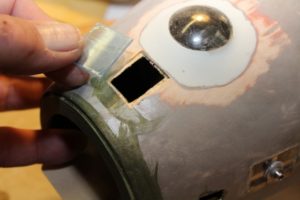 B -17-21-20      That little rectangular window in front of the dome gets done just like the others.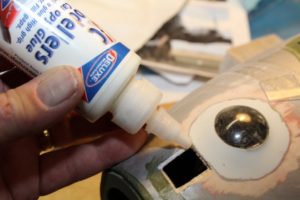 B-17-21-21      Here I decided to use Deluxe Materials RC Modelers Canopy Glue in an open-joint technique to finish the assembly. Remember the radio compartment window I just did with Super-Phatic? This one "just feels better this way…it's the sort of thing you develop your own feel for.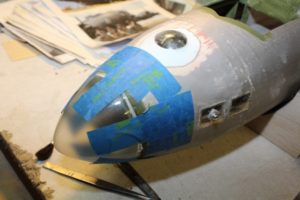 B-17-21-22      Just as I have done before I used a generous application of masking tape to hold all this plastic in place. If you look carefully you'll see that the clear nose bowl and several rectangular side windows are going into place along with that little one on the top.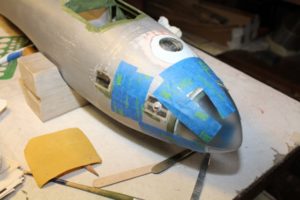 B-17-21-23      Same game from the other side, so you can get a better look.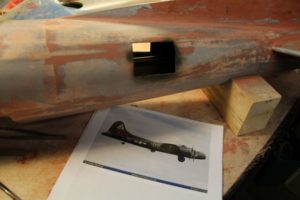 B-17-21-24      The waist gun openings/windows are a B-17 detail nobody is going to miss, so you want to get them right. Make sure to check your scale references carefully…these windows differ noticeably from the B-17 F to the B-17 G. What's happening here is that I have located and cut out both the left and right openings and prepped the fuselage interior with some dark green Stits PolyTone to help hide the absence of some of the (heavy) detail I decided not to include.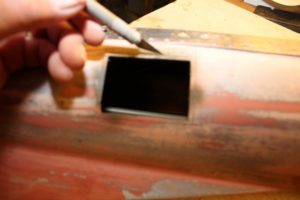 B-17-21-25      I prepped the edges of these openings just as I did with the various flat windows on the nose…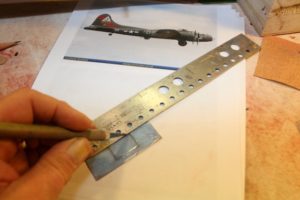 B-17-21-26      cut out the window inserts from more of that heavy clear plastic…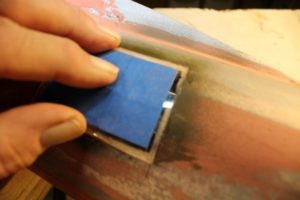 B-17-21-27      and installed them in the same way. Note that in this case I have finished masking off the portion of the plastic that is to remain clear before assembling it into place.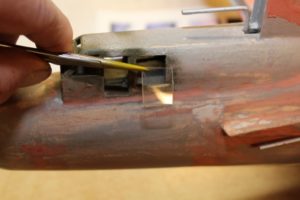 B-17-21-28      Now it's time to repeat the process…several times…with the tail gunner's enclosure. I'm going to let the photos tell most of the story here.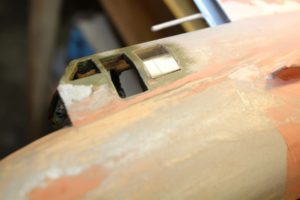 B-17-21-29       Can you see how I bent the clear plastic insert to match the outside shape of the structure?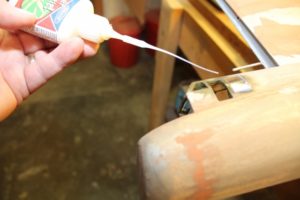 B-17-21-30      This time I chose to use Super-Phatic for its ability to penetrate all the way around and into every part of this closed joint assembly.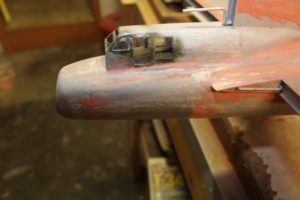 B-17-21-31      All assembled, the tail gunner's windows look like this. Look at the rear (left) panel…the Super-Phatic is not yet dry there and appears white. On the other panels it has dried and has become clear. I'll finish masking these areas next time.