As it turned out I decided to finish-sand those overlap-joint-buildups later, as part of another big sanding task that's coming up soon. Instead, we are starting off this time with some of the final details of the flap and aileron installations. There's going to be plenty of finish sanding coming up right after that.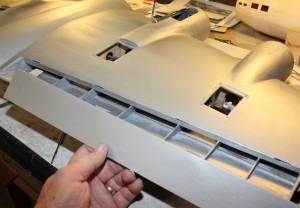 B-17-18-1      The last time I showed you one of the flaps assembled in place, the hinges were just dry-fitted (assembled without adhesive). Now we are going to put them in for real. As I have mentioned in other blog and column-related features, there's always a question about just when it is the right time to assemble/hinge the various control surfaces permanently. This is worth talking about again for the guys who missed class that day. Think about this…it would be fearsomely difficult to put fabric covering on, say, the rudder AFTER mounting it permanently. Trying to work between the surfaces and around the hinges would make it nearly impossible to do a neat covering job. But…at what point after covering should we set the hinges? Every successive coat of dope, sealer, primer and maybe even paint is going to require sanding, maybe even other surface prep work, and you can't get that stuff right with an assembled hinge line getting in the way of free access to all the surfaces you need to reach. OK, but what about the color coats? You remember (don't you?) how I have explained that all your sanding/surfacing should be complete before you put any finish color on your airplane. The function of colored paint is to add color, nothing more. What's the best choice? If I assemble the control surfaces before the color coats go on I may have trouble getting proper access to parts of them. However, if I paint them "loose" I have to figure out a way to hold them securely in a jig or fixture of some sort so they can be sprayed and then left to dry without sticking to everything they might touch and spoiling the whole job.
Here's what I did. On this B-17 the flaps are hinged along a single narrow edge, which means that I can hinge them NOW and spray their color coats while they are attached to the rest of the airplane. The rudder, elevators and ailerons, on the other hand, all have offset (enclosed) hinge lines. This dictates that I won't be able to get to some part of each leading edge and its corresponding main surface trailing edge. Trust me…in the end you would be able to see any such missed spots the spray pattern wouldn't reach. With all that said, I can line up the left flap to check its fit one more time. I will leave the other control surfaces to finish painting before I "hang" them.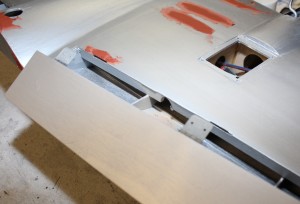 B-17-18-2      Now you can see how it's all going to fit together. The red stuff is the first of several applications of some quick-drying auto body putty I will use for fixing small surface dings I managed to miss so far. This material has not yet been sanded.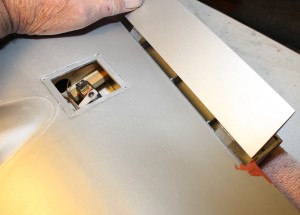 B-17-18-3      Last chance…every hinge must slip neatly and completely into place before any adhesive gets near the job.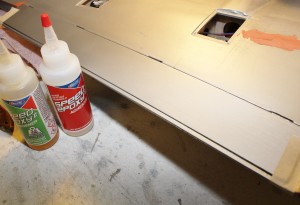 B-17-18-4      I used Deluxe Materials "Speed Epoxy" (60-minute cure) with the same sequential, oiled hinge line method you have seen me use many times before. I used the relatively slow curing epoxy, by the way, both to ensure that I'd have plenty of time to get the alignment right, but also because slower curing epoxy usually adheres better than the quicker stuff.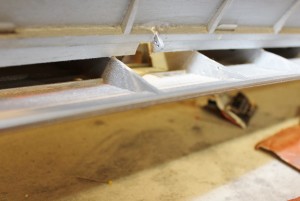 B-17-18-5      With that epoxy cured thoroughly, I can open/extend the flap and break loose any tenacious bits of epoxy that "squeezed out" and got caught by the oil I added to each hinge pin. Now you can see how this whole deal will look from inside. I made this control horn from an "extra" servo output just as I did with the ailerons. You can see the preliminary cutout (I may have to enlarge it) for the servo-to-flap pushrod that will come along later.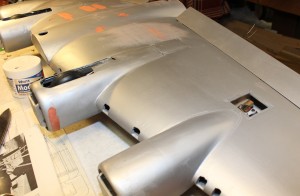 B-17-18-6      Same game from the outside. You can see how both flaps will extend when actuated by the enclosed pushrods that preserve that "scale appearance".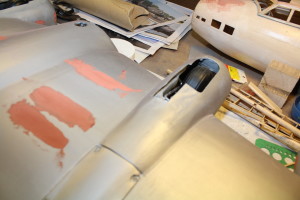 B-17-18-7      Here's the same scene…the bottom of the wing…from a different point of view. I still have not sanded out that first application of red auto filler…that's coming.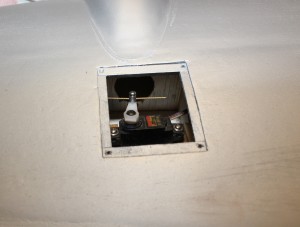 B-17-18-8      There are a few details of the aileron installation that I need to finish now. Here's the right aileron servo all nestled into the well/bay I built for it, with the flexible push-pull cable that leads outboard to the aileron fixed tightly in that E-Z connector I used to get maximum "adjustability" in that confined space.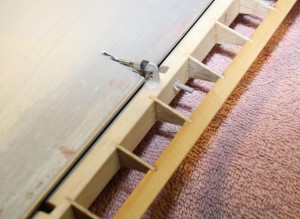 B-17-18-9      This is the other end. The aileron hinges are dry-assembled to permit me to measure the cut-off length of that push-pull cable exactly. I'm using an adjustable nylon mini-link at the aileron horn. You can see where I have soldered the brass ferrule portion of the link to the protruding end of the cable, which rests inside the nearly-concealed end of the yellow outer control tube where it exits the wing.
B-17-18-10      Now we get to do some sanding. I have mentioned before how preliminary dry sanding allows a better view of just where and how deep I'm cutting. This is a good example of what that looks like.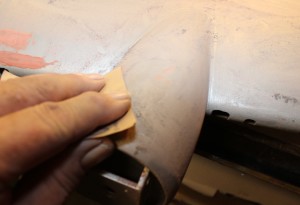 B-17-18-11      More of the same. This is the No. 4 (left outboard) nacelle, and the shot suggests how "up close and personal" we need to get. Right HERE is where most of those subtle, persistent flaws in the base finish will get caught and eliminated…or not, depending on the care we invest right new.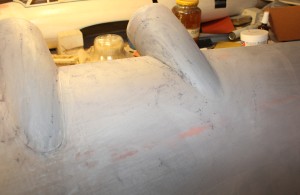 B-17-18-12       Look again…this is the top inboard surface of the right wing. The gray sanding dust you see is just part of what got generated while I was sanding to this degree of finish. Can you see how the spots of red primer feather off into the surrounding surface? If those transitions are not so smooth that you can't feel them with your fingertips, you'll end up with ridges and bumps in the final finish. Look carefully at the rest of the wing surface…that's what I was doing at this point, scrutinizing everything for shiny spots in the aluminum primer coat that would indicate low spots not yet leveled off by sanding. Can you find any?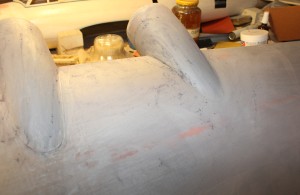 B-17-18-13      And…one more time. This stuff is important, and I want to give you several examples of what an aluminum primer surface is supposed to look like when it's getting close to being ready for painting.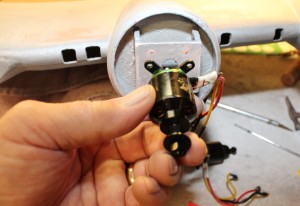 B-17-18-14      OK, that's enough. I cleared off all that loose sanding dust so it wouldn't make a mess of everything around it while I start working on mounting the four Cobra 2217/20 outrunner motors that I ordered from Innov8tive Designs especially for this airplane. I already drilled the mounting screw and shaft clearance holes in the four firewalls, so now all I have to do is clean up the accumulation of primer, sanding dust and so on so I actually mount the motors.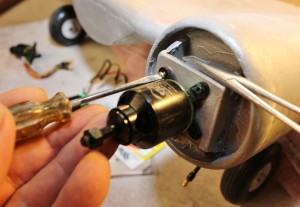 B-17-18-15      I'm using some 2-56 x ½" machine screws from a large supply I had on hand, along with 2-56 blind nuts from the hobby shop on the back of each firewall. Here I'm using one of those 2-56 screws to line up the No. 2 (left inboard) motor with those mounts. The surgical clamp you see coming into the picture from the right is holding the 2-56 blind nut that I'm threading the screw into. Off camera I went on to set all four screws loosely in place and then tighten them sequentially until the firewall is holding the motor in position as designed with no trace of forcing or binding.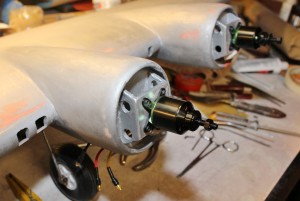 B-17-18-16      All lined up and tightened down the No. 1 and 2 (left) motors look like this. I'll get back to do more with them later.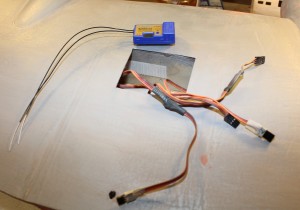 B-17-18-17      With all four motors in place I can proceed to finish with the installation of all the wires, connectors etc. inside the wing. The servo extension cables you see here connect to the aileron and flap servos which are already mounted inside the wing. My Airtronics 92104 10-channel 2.4 gHz receiver is going to fit inside that center section cutout, held in place by some hook-and-loop tape that's already in place on the rear face of the center spar.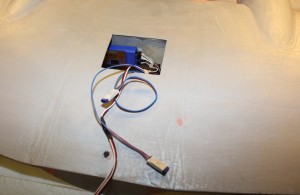 B-17-18-18      An awful lot of the power and control stuff in this airplane goes inside the wing. Here the receiver is set in place with all the servo connectors plugged into the receiver output sockets. If you look carefully you can see the small nylon cable wrap I added to tie all those servo cables into a single bundle to avoid stressing the connections individually. The two single connectors you see on the wing are for the rudder and elevator servos which will be mounted in the fuselage. The "Y" connector lead of which you can't see one end is the ganged ESC signal output. Note: There are going to be four ESC's (one for each motor) that will share a common throttle position input from the receiver. This "two-plug" Y connector will connect to two more Y connectors in turn…one in each wing…which will distribute the shared throttle signal to all four ESC's. Those cables, along with the heavier battery pack connectors, have yet to go inside.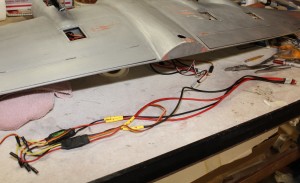 B-17-18-19      That's what comes next. What you see here stretched out on the bench behind the wing is one of two motor-ESC harnesses…this one is for the two outboard motors (No. 1 & 4). There are two heavy gauge black-and-red wire pairs, one from each ESC, that connect to make a common power (LiPo pack) connection to operate both outboard motors as a pair. There is another identical but shorter harness to connect the inboard (No. 2 & 3) motors as a pair to their own pack, but you can't see it because it's out of the way for now. To the left of the ESC's in the picture are the female ends of the bullet connectors that will attach to the motors. If you look carefully you can see the three-wire (brown-red-orange) ESC signal cables that aren't yet connected to anything else.
Here's the reasoning behind it all. Each brushless motor requires its own ESC. All four of these ESC's (unless we want differential throttle or some other "extra" control capability) operate from the same receiver output signal…all four are controlled together. At the power supply end of the circuit I have to decide how many LiPo packs I want to mess with. Four (one per motor) are a lot to keep track of…and…the failure of any one of them would cause an off-balance thrust emergency. If I run all the motors off a single pack I avoid that risk, but a single failure would then leave me dead-stick. I decided to use two identical 3S x 4000 mAh Venom LiPo packs, one powering the inboard motors and the other the outboards. If either one fails I still have partial power and balanced thrust. We'll take a closer look at all this when I have the airplane closer to being ready to fly.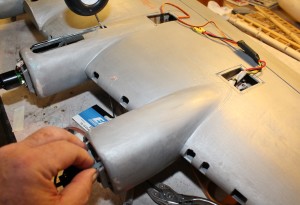 B-17-18-20      This is the right outboard (No. 4) ESC…attached to all the wires… being fed through the aileron servo hatch opening and forward through the nacelle. I'm using that piece of left-over white control tube as a guide to pull the whole package through the closed in/tight inside space. (Yes, I made sure beforehand that everything was going to fit!)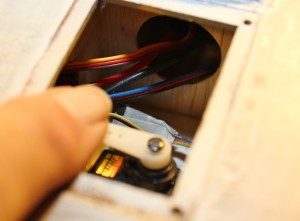 B-17-18-21    Here's a close up look at how the power and signal wires for one ESC/motor pair (this is the left inboard) fit through the access hole in the spar web and tuck neatly into place next to the aileron servo.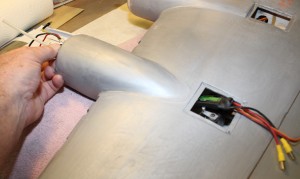 B-17-18-22      From the front the right outboard installation looks like this. I have pulled the ESC output bullet connectors far enough forward (in my fingers at the left) to connect to the motor bullets. The gang of wires emerging from that aileron servo opening is going to go back inside the wing to get fed through to where the receiver is already in place in then center section.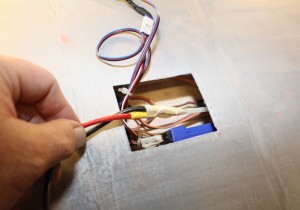 B-17-18-23      That looks like this. I'm holding a single pair of power wires.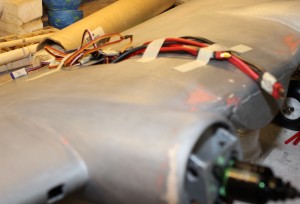 B-17-18-24      All hooked up it works this way. If you look carefully where I have the heavy power wire bundle temporarily taped to the center section skin you'll see two Deans Ultra female connectors, each of which has two wires connected to each of its pins. These pairs of wires split and lead out into each wing. One set of the two black-red pairs coming from one Deans connector leads out into the right wing and the other goes to the left to control the inboard pair of motors. The wire pairs from the other Deans connector do the same to connect to the outboard pair of motors. All the various servo cables and connectors are bundled up temporarily at the rear/left. I'll be sure to give you a closer look at the whole operation when it's completely hooked up and working.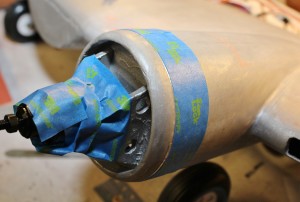 B-17-18-25      Let's get back to working on the structure of the airplane. Here I'm getting ready to do some detail work on the front of each of the four nacelles. If you check out your own scale references you'll see that each sub-cowl/nacelle front consists of formed aluminum sheet that looks like the outside of a doughnut. (Yeah, I know about toroids…) Directly behind each of these formed sections is another clearly defined part of the cowl…a smooth, parallel-edged piece of more sheet aluminum that's curved to form a ring around the circumference of the nacelle. Using those drawings again, I have scaled the proper distance back from the front of the cowl to the trailing edge of the ring and marked the position of its back edge with that blue tape. The scaled width of each ring turned out to be 5/8", so I cut strips of adhesive-backed aluminum tape to be wrapped in turn around each nacelle.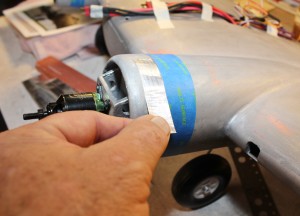 B-17-18-26      See how the tape defines where the rear edge of each ring needs to be? A small scrap of 1/16"plywood turned out to be a fine tool for pressing – smoothing – adhering the aluminum tape in place.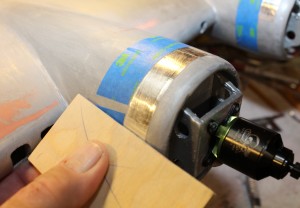 B-17-18-27      All in place, those finished sections of "scale" nacelle skin look like this.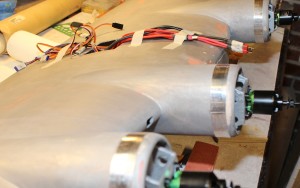 B-17-18-28      To finish creating a convincing "scale" outer skin for the front of each nacelle (those rounded parts) I will have to finish the job of replicating those formed, compound curved metal sections. I'll start doing that by using tape to protect the motor (you'll see why) and more tape to accentuate the front edge of that new aluminum skin. Why?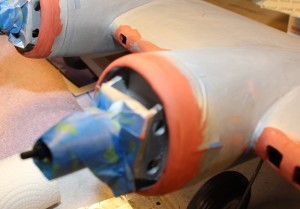 B-17-18-29      So I can do THIS. I have painted a really heavy coat of thinned red autobody putty all over the front/"bowl" portion of each nacelle and back over the edge of that masking tape. Watch what happens next.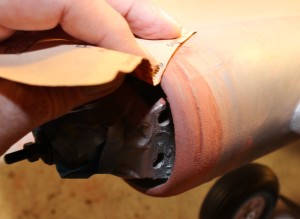 B-17-18-30      By sanding back (carefully) the now-dry primer/putty I can make its surface flush with the outer face of that built-up layer of tape. At the same time I'm defining and smoothing the curved portion of the bowl so I can eventually finish it to look like more aluminum.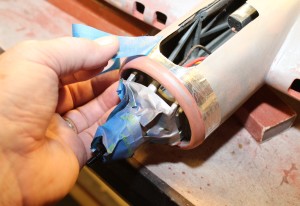 B-17-18-31      And…look what happens when I pull that tape! I have simulated two curved, formed sections of aluminum nacelle skin that fit together to define the nose bowl of each nacelle.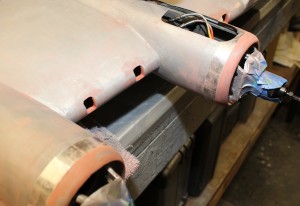 B-17-18-32      Here's a look at that same detail work from another angle.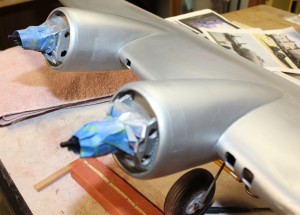 B-17-18-33      And…see how much difference the first of several coats of Stits Poly Spray primer.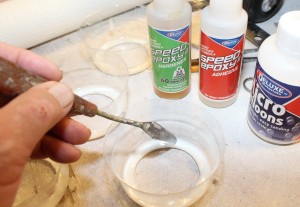 B-17-18-34      Here's a taste of what's coming up next…it's time to work on the actual engine cowls. These are supplied in the original kit in the form of clear plastic moldings, which are going to serve as a good starting point for what I want to do with this airplane. The first problem here is that the plastic moldings are really thin, and I'm concerned that the shaping I want to do on the front lip of each of them will cut all the way through and destroy the whole thing. I have made up a filler/reinforcing putty from some Deluxe Materials Speed Epoxy (60 minute) and micro balloons. This needs to be thin enough to coat to the inside surface of the plastic cowl to prevent bubbles and voids, but also heavy enough to permit using surface tension to create a buildup like this.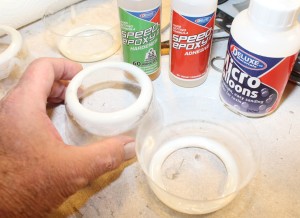 B-17-18-35      When that stuff has cured it should look like this. Next time I'll show you why I went to the trouble of putting it there.