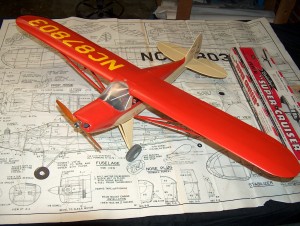 Do you remember Berkeley kits? If you were aware of model airplanes during the period from World War II until the early 1960's, you probably do. There were dozens of them, maybe half of them free flights and the rest control-liners (except for a few intended for something exotic and mysterious called radio control). Nearly all of them were scale jobs. They were all balsa wood models…former-and-stringer construction and sometimes solid (carved) balsa fuselages for the designs intended for bigger engines. By the late 40's you could count on finding die-cut parts and silkspan covering material in the boxes. During the 50's, when I was a kid trying to learn everything about model planes all at once and building whatever I could afford to buy at the local hobby shop (which wasn't much), a Berkeley kit was a special treat. The typical Berkeley "Flying Scale" kit was a free flight job of about three-foot wingspan intended for rubber power, or maybe conversion to use a 1/2A glow engine like a Wasp or an OK Cub, and I remember that most of them were priced at $3.95. That was a lot more than, say, Comet kits of about the same size that sold for fifty cents or maybe a dollar. There were some bigger Berkeley kits of four or five foot span, but they cost at least seven or eight bucks and I never permitted myself to get very excited about them.
I had two of the carved fuselage control line models, a P-51 and a P-38, both Christmas gifts, but never got up the courage to try flying them even though I was by then pretty good with something like a Ringmaster. I built a whole series of the 1/2A free flight models and tried to fly most of them without really knowing what I was doing. A few years later when I was a bit more grown up and a whole lot more skilled at model building, the quality of the entire Berkeley line suffered from the use of really bad balsa as a cost control measure and before anyone really noticed, they were gone. These days you won't find the name Berkeley on a hobby shop shelf anywhere, and most modelers have never heard of them. There is one balsa wood model airplane kit now on the market that can be traced back to the Berkeley lines…do any of you know what it is?
There are Berkeley kits around, if you know where to look. Check out model airplane swap meets, poke around in the stacks of dusty old kits you might be fortunate enough to run into, and you could be lucky enough to spot one of the old red, black and white kit boxes. They are considered collector's items, and the few that have survived the years in excellent condition command serious prices. I have never considered myself a collector, but I am very much interested in old time balsa wood airplane kits like the Berkeley line that are no longer pristine or even complete but preserved well enough that a determined, skilled aeromodeller can actually build an airplane from them. For me, building a model airplane I remember from my youth, using all the skills I have acquired over the years to do a far better job than I could ever have dreamed of in those days, and then actually flying it using state-of-the-art micro radio control and electric power is a nostalgia trip to write home about.
That's what I just finished doing a few weeks ago on one of those building benches out in my shop. Not so long ago I got the chance to bring home one of those old Berkeley kits, the 36" span Piper Super Cruiser from the free flight scale series, one of the designs I'd never tried to build as a kid. At first I intended to build it exactly per the old plans, add a simple geared brushed motor and a pair of servos for the rudder and elevator, and give it the silkspan-and-clear-dope finish intended by the original designer. But…somewhere along the way my imagination took control and I ended up finishing the Super Cruiser as if it had become the answer to a fantasy I might have had as a thirteen year old modeler. I altered a bit of structure here and there to add scale dihedral and ailerons, included a working cabin door and a steerable tailwheel, included a brushless motor and four-function micro radio and gave it a covering of Japanese tissue and a finish of nitrate dope and airbrushed Stits PolyTone color…just as if the most outrageous, never-in-a-million-years kid's dream of the perfect scale model had come to life in my hands.
I think she looks great…and I'll get some flight shots to show you once the weather gets better.